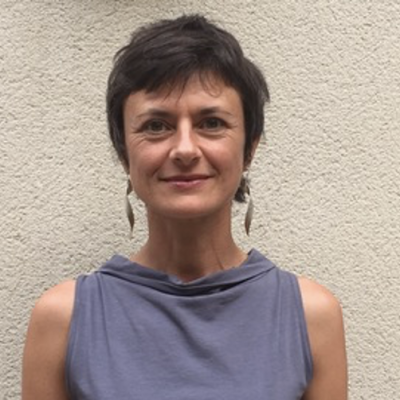 As a coach, Roxane's presence invites deep connection, curiosity and lightness. Her holistic approach reminds her clients to keep walking on a path of wholeness where mind, emotions, body and spirit come to play in transformative ways. Her focus is on leadership development individually and in teams to foster a collaborative culture. She is committed to humane organisations where sustainable performance is achieved through conscious, responsible and creative leadership in service of all life.
Certified with CTI (CPCC) and ICF (PCC), she has been coaching since 2006 in partnership with a range of clients: professionals, artists, coaches in training and senior executives in multinational corporations in various sectors (engineering, banking, pharma, telecom, consulting, non-profit…).
Roxane also works as a facilitator in collaboration with a few consultant companies and is a faculty member of the Co-Active Training Institute (CTI).
Roxane has lived in the UK since 1996 with a second home in Spain for 10 years. French being her mother tongue, she speaks English and Castellan (Spanish) fluently, and some German.
Professional background:
Secondary education teacher (languages)
Tour coordinator in a tour operator, including sales and marketing
Project and client relationship manager for a consultant company.
Training and education:
Global Leadership Profile – Global Leadership Associates
Collective healing Journey, Thomas Huebl
Warriors for the Human Spirit (in progress) – Margaret Wheatley
Lewis Deep Democracy level 3 – Co-Resolve
Improvisation – Caitlin McClure and Theresa Robbins Dudeck
Leadership Development Profile – Harthill
Delicate Lodge Teachings – Dancehammers
Tetramap
Neuroscience and coaching – Coaches Rising
Great Story Coaching – Lucid Living
FIRO-B – OPP
MBTI I and II – OPP
Diploma in Coaching Psychology – PB Coaching and Leeds Beckett University
Leadership Embodiment – Wendy Palmer
PCC since 2010 – ICF
The Leadership Circle Profile – The Full Circle Group
The Act of Leadership – eKCosystem.
Team Diagnostic – Team Diagnostic International
ORSC (Organisation and Relationship Systems Coaching) – The Center for Right Relationship.
Leadership Programme – CTI
SML™ programme – Oxford Leadership
CPCC – Augere Foundation/ CTI
Nia™ White Belt, Green Belt, Blue Belt, Brown Belt
PGCE (foreign languages) – Open University, UK
Master degree in Philosophy – University of Amiens
Bachelor's degrees (Philosophy and English Language and Culture) – University of Amiens and Keele University, UK
DEUG certificates in Philosophy and Sociology – University of Amiens
Ecole Supérieure de Commerce of Amiens