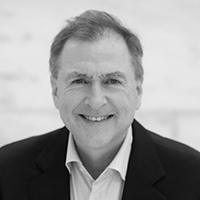 Dan works exclusively with leaders confronting today's most difficult organizational challenges. In the last six years, more than 550 executives from commercial business, non-profits and federal agencies have chosen him as their personal coach to improve how they lead change, create innovative solutions, resolve conflicts, boost team performance and manage productivity and, among many other challenges, restore balance between their demanding work commitments and personal lives.
A 2011 graduate of Georgetown University's Certificate in Leadership Coaching program, Dan has thus far provided more than 4,200 hours of individual and team-coaching services. Prior to that, he spent 28 years as an equity partner in an international information company. During that time, he served in many roles as the firm grew from start-up to 1,500 employees: publishing director; general manager and member of the board of directors. For six of those years Dan oversaw the design and delivery of internal leadership-development programs for his firm's 150 managers and senior executives.
In July 2021, out of his commitment to the global, common good, Dan founded the non-profit organization, Coaching for Justice. Its mission is to equip America's leadership coaches with the personal awareness, knowledge, skill, and courage necessary to engage with their clients in the work of responding to and eradicating systemic racism, gender bias and all other forms of oppression and discrimination where it manifests in organizational life.
Dan's coaching philosophy is best summed up by Shakespeare: "Beware of the stories you tell yourself, for you will surely be lived by them." Leaders and managers who partner with Dan as their coach soon discover the outworn, personal narrative they need to re-write about to be more effective at what they do. At the heart of his approach is challenging self-limiting assumptions, mining untapped gifts and deepening awareness of yourself and how others see you.
Dan holds the Master Certified Coach credential from the International Coach Federation and several other certifications. He is an Immunity to Change coach through Minds at Work, having studied under Harvard psychologists Robert Kegan and Lisa Lahey. In the field of adult development, he is qualified to debrief the Global Leadership Profile and the Leadership Agility 360. Other certifications include Accredited Five Behaviors of a Cohesive Team Facilitator; MBTI; the Hogan Suite; the Emotional Social Competency Inventory; Leadership Circle Profile 360; CCL Benchmarks 360.